Aims and Values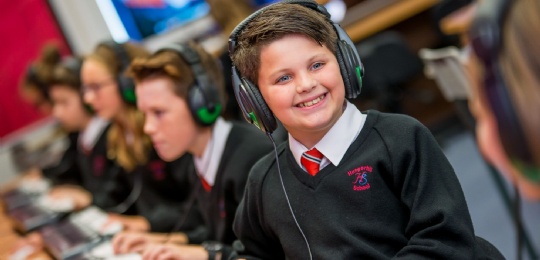 We believe all students are unique individuals and are of equal worth; everyone can achieve and has a contribution to make. Education works best when it is a close partnership between the school, students and home. From this premise we set out to develop independent, caring, enquiring, morally responsible, adaptable and well-qualified young people prepared for life and work beyond school. We seek to ensure every young person leaves the school with an enjoyment of learning and an understanding of the importance of learning in their future lives.
The school's aims are:
to develop the potential of all students - their knowledge, skills and understanding - through an appropriate and relevant curriculum incorporating legal requirements
to use methods of learning and teaching which meet individual needs, develop feelings of confidence, bring success and maximise students' standards of achievement
to foster a caring, well-behaved community where students:

are well behaved and self-disciplined
feel they belong and are valued, are happy and emotionally secure so that they are able to explore their feelings within a positive environment
value their own health and wellbeing
learn co-operation, tolerance and mutual respect, and involve themselves fully in the life of the community
to strive for quality and excellence in all aspects of school life
to provide clean, stimulating and safe surroundings which enhance learning and foster respect for the environment
to encourage a positive and active partnership with parents and the wider community.
At the heart of our vision are our core values:
respect
excellence
resilience
care and consideration
honesty
Number on Roll 1145 (September 2016)
Information about admissions
Parents who would like to know more about Hungerhill are most welcome to visit the school and to bring their children with them. Please contact the Headteacher's PA, Mrs C Keogan, who will arrange a convenient time. A visit provides the opportunity to ask questions, tour the school, to meet staff and to see the school in session.
The school serves the communities of Edenthorpe, Kirk Sandall, Barnby Dun and Dunsville, but applications are welcome from families outside these areas. Each school year, Hungerhill School consults with the LA and, historically, has set a limit of 224. All admissions are dealt with by Doncaster Local Authority, not by the Headteacher or Governors of the school. The closing date for receipt of applications is 31st October 2016. Details of the admission policy statement for all secondary schools is provided separately by the LA in the 'Admission to Secondary School' booklet available from 'Admissions and Student Services' tel. 01302 737203, email: admissions@doncaster.gov.uk
Admissions Criteria
Places will be allocated using the criteria listed below, in order of priority:
children in Public Care
children who are 'ordinarily resident' in the catchment area of the school
children who have attended one of the Brighter Futures Partnership Trust schools for more than one calendar year before the closing date for applications
children who attend a school which is a linked pyramid school
children with an elder brother or sister in the school
other children from outside the catchment area, based on proximity.