Your Time at Hungerhill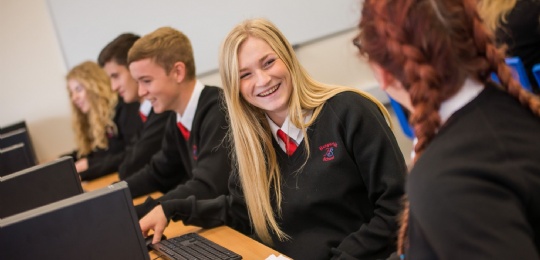 The School Day
| | |
| --- | --- |
| 8.50-9.05am | Registration/Assembly |
| 9.05-9.55am | Lesson 1 |
| 9.55-10.45am | Lesson 2 |
| 10.45-11.00am | Break |
| 11.00-11.50am | Lesson 3 |
| 11.50am-12.40pm | Lesson 4a/Lunch |
| 12.40-1.30pm | Lesson 4b/Lunch |
| 1.30-2.20pm | Lesson 5 |
| 2.20-3.10pm | Lesson 6 |
School Transport
There are special buses each day from Kirk Sandall, Hatfield and Barnby Dun. A single journey costs 70p as long as the student has a concessionary fare pass.
School Meals
A midday meal is available with a wide choice of menu that caters for all tastes. The current price is £2.10.
Please note: all students are expected to stay on site at lunchtime unless they are going directly home.
Curriculum Statement
"We believe that all students are of equal worth; that they are entitled to a broad, balanced and challenging curriculum relevant to their particular needs; and education is about enlarging experience and understanding, about the rewards and enjoyment of learning and as such is a life-long process. By promoting equality of opportunity, the school aims to develop the full potential for learning of all its students; to promote their cultural, mental, moral and physical growth and to prepare them for the opportunities, responsibilities and experiences of adult life at home, at work, at leisure and in the community."
Curriculum Organisation
At Hungerhill, we have a highly personalised curriculum. Our Key Stage 4 curriculum is based on a three-year model following on from an accelerated Key Stage 3. On entry, students are grouped in mixed ability forms with letters taken from the name of the school; 7H, 7U, 7N etc. Most students will remain in the same form throughout their time at the school. It is our policy to organise students into teaching groups that promote the most effective and successful personalised learning. Arrangements therefore vary from subject to subject, some being taught in ability sets and others in mixed ability groups.
Subjects studied by all students in Years 7 and 8 (Key Stage 3) are:
Art & Design
Design & Technology
English
Geography
History
ICT (incl. Computer Science)
Mathematics
Modern Foreign Languages
Performing Arts (Music, Drama, and Dance)
Personal, Social, Health, and Citizenship Education
Physical Education
Religious Education
Science
The Key Stage 4 Curriculum is made up of two parts:
core subjects which all students study
optional subjects which students choose at the end of Year 8.
Core Subjects
All students study English, maths, science, ICT, ethics and philosophy, physical education, personal, social and health education throughout Key Stage 4.
In addition, all students select four subjects from French; Spanish; geography; history; science; art, craft and design; business; ICT; computer science; media; drama; food preparation and nutrition; music; performing arts; physical education; product design; psychology; religious education; sport science; health and social care, and workskills.
Enrichment
Hungerhill School is proud to offer a wide and varied selection of enrichment opportunities for our students. The enrichment programme consists of weekly enrichment lessons for all year groups with separate focussed activity days taking place throughout the year. The weekly enrichment lessons allow students to choose activities such as knitting, gardening, sign language and musical events. The enrichment programme also offers students the opportunity to become involved in the Duke of Edinburgh Award from Year 9 onwards. Our enrichment curriculum aims to offer a wide range of experiences and challenges to ensure our students are inspired to learn beyond the traditional classroom, for memorable learning experiences to complement our excellent academic life.
The team leading the enrichment programme is made up of:
Mrs S Davies - Joint Head of Enrichment
Mrs E Barlow - Joint Head of Enrichment
Miss A Cross - Duke of Edinburgh Leader.
Enrichment Activities
We provide a broad range of activities to enrich the lives of our students and enhance their learning experiences. These include:
Study Visits:
Art Yorkshire Sculpture Park
Drama Theatre trips
PE Football trips incl. to the USA; Ski trip to Italy
History Thackray Medical Museum in Leeds
Geography East Yorkshire coast
Year 7 visit to Boreatton Park
Year 8 visit to France and the WWI battlefields
Year 10 visit to Castleton
English visits to numerous productions
Science various visits
Sport:
Badminton, Cricket, Rounders, Netball, Football, Rugby, and Athletics clubs; inter-form competitions.
Study Support:
Subject 'booster' and 'blaster' activities
Out-of-hours access to ICT suites
Holiday catch-up sessions
Extension activities for gifted students
Clubs in many different subject areas
Homework club
Breakfast club
Spanish club
Intensive 'camps' in ICT, literacy and numeracy
Maths Challenge
7th Session.
Performing Arts:
Drama productions, fiddle band, stage band, drama club, music concerts, music instrumental tuition.