Our Policies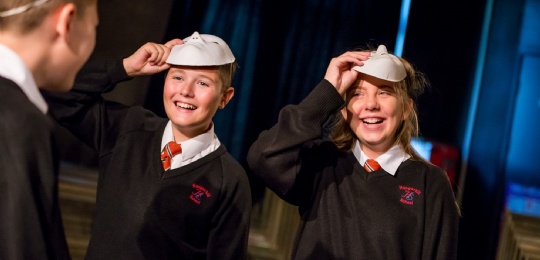 Safeguarding/Child Protection
Hungerhill School recognises the responsibility it has under Section 175 of the Education Act, 2002, to ensure that safeguarding and the weflfare of children is of paramount importance. All staff receive regular training on child protection and safeguarding issues and there are rigorous procedures in place to protect children. A copy of the Safeguarding (Child Protection) Policy can be downloaded from the school's website. The designated members of staff for Child Protection are Mrs W Sumner and Mrs J Rivers.
Special Educational Needs
The school's policy on Special Educational Needs is in line with the requirements of the new Code of Practice. Central to the policy is the philosophy that all students have the right to a broad and balanced curriculum and it is the collective responsibility of all staff to provide the best educational opportunities for all children.
The school has an excellent reputation for its provision in this area and there are clear criteria and procedures in place for the identification and assessment of students with special educational needs. Currently there are 26 students with statements of special educational needs in the school. Arrangements for the admission of students with disabilities follow the procedures contained in the 'Admission to Secondary School Booklet' published by the Local Authority.
The SEN Co-ordinators work with a team of assistants who are able to provide additional support to ensure students' needs are met in the most appropriate way. The school ensures that disabled students are not disadvantaged in any way and there is an accessibility plan in place. Most support is provided within lessons and where necessary children are given individual help with basic skills. As a consequence students with special needs make outstanding progress at the school. Our SEN Information Report, which includes a description of our SEN provision is available on our website.
Disability Equality
As a school we are committed to ensuring equality of education and opportunity for disabled students, staff and all those who receive services from the school. We aim to develop a culture of inclusion and diversity in which people feel free to disclose their disability and to participate fully in the life of the school. At Hungerhill we believe that diversity is a strength which should be respected and celebrated by all those who learn, teach, work and visit here.
Home Learning
We consider learning at home to be extremely important as a means of preparing students prior to lessons or extending work and consolidating work covered in lessons. Home learning is an integral feature of students' work and is one of the key mechanisms through which we can help all students to achieve their full potential through fostering habits of self-discipline and developing independent learning such as research and study skills. All students are issued with a log-in for 'Frog Learning' where work is uploaded and should be checked daily. Students are also issued with a planner in which to record their offline home learning. Parents are able to check online whether their child has completed all home learning tasks. We ask parents to ensure home learning is completed in the best possible conditions and to check and sign their child's planner each week.
Careers Education and Guidance
Careers education is offered to students in all years through the personal, social and health education programme. The careers programme seeks to make students aware of their talents and aptitudes and the range of post-16 opportunities available to them.
All students have access to one-to-one support from an external, impartial careers advisor. The school's Careers, Work-Related Learning and Transitional Support Officer is also available for consultation by students and parents at any time through the year.
There is a well stocked, up-to-date careers/guidance library where students have access at lunchtimes, breaks and after school.
Religious Education and Collective Worship
Britain today is a multi-cultural society, containing people from many ethnic backgrounds. Students therefore learn about a broad spectrum of religions, giving them an understanding of people's religious beliefs and practices and of how their lives are affected by religion. A more detailed knowledge of Christianity is presented since it is the mainstream religion in Britain today. Collective worship is seen by the school as an important part of students' experience and development. Themes such as respect for others, consideration of the importance of the spiritual side of life, and an understanding of moral issues are all covered. Whilst assemblies reflect the broad traditions of Christian belief they also encompass a consideration of the different world faiths found within Britain.
Parents have the right to withdraw their child from religious education or collective worship, either in whole or in part. Those wishing to do so should contact the school and alternative provision will be arranged.
Sex Education
Sex education is taught as part of the national curriculum in science; as part of personal, social and health education, and as part of religious education. Its purpose is to provide knowledge about loving relationships, the nature of sexuality and the processes of human reproduction. Students are encouraged to have regard for moral considerations, the value of family life and sexual health within the context of the education programme. Outside agencies are used to assist with the delivery of the programme.
Parents have the right to withdraw their children from all or part of the sex education programme. Those wishing to do so should contact the school.