DT Food
Hello and welcome to the Hungerhill Bake Off Challenge for staff and students. We appreciate that during this time you have been advised by the government to only go out for essential shopping. Therefore, please only participate if you have the ingredients – or feel free to experiment!

Week 2, Make a batch of 12 decorated biscuits which fit the theme spring.
Amber Doolin, Y11. Lemon Sherbet Jammy Dodgers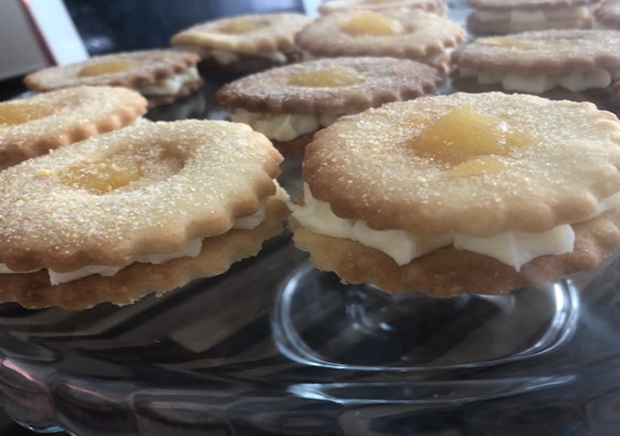 Brody Taylor, Y8 Cherry Blossom Biscuits
​​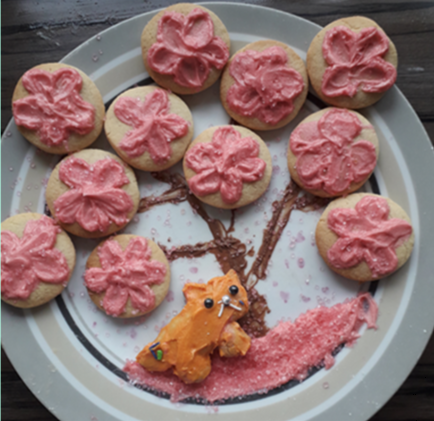 To make the biscuits, I first measured out accurately the ingredients.
I then used the rubbing in method to coat the flour and sugar in fats (butter).
I then beat an egg and added it to the crumbs a little at a time until the dough came together.
I then floured the worktop and rolled out the dough and cut out 12 circles(one spare) and moulded from loose dough a fox shaped biscuit.
They cooked for 7 minutes and cooled for a further 3.
While they were cooking, I heated up a tray on the hob, and melted a strip of chocolate on one side.
I used the melted chocolate to draw a tree trunk and branches onto the plate.
I then used an edible marker to draw on falling petals.
While they were cooling, I mixed a buttercream with pink food colouring and practiced the pattern.
I also applied a strip of buttercream along the 'floor' and covered it in pink crystals to show the petals on the ground.
When they were cool, I decorated them in sakura/cherry blossom shapes.
I placed them on the tree plate and then decorated the fox with orange buttercream and sprinkles.
Finally, I covered the biscuits and plate in pink crystals.
Two amazing entries, well done.
Brody's entry meets the spring theme brilliantly and is highly creative. Amber's biscuits also meet the specification and are executed to a high standard.