Post 16 Open Events
Due to Covid-19, all in-house Post 16 events have now been cancelled. We are looking at providing virtual presentations where we can and we will post below details of any 16+ providers' Open Events (either live or virtual).
Club sports doncaster college (keepmoat stadium) - TUESDAY 27TH OCTOBER 2020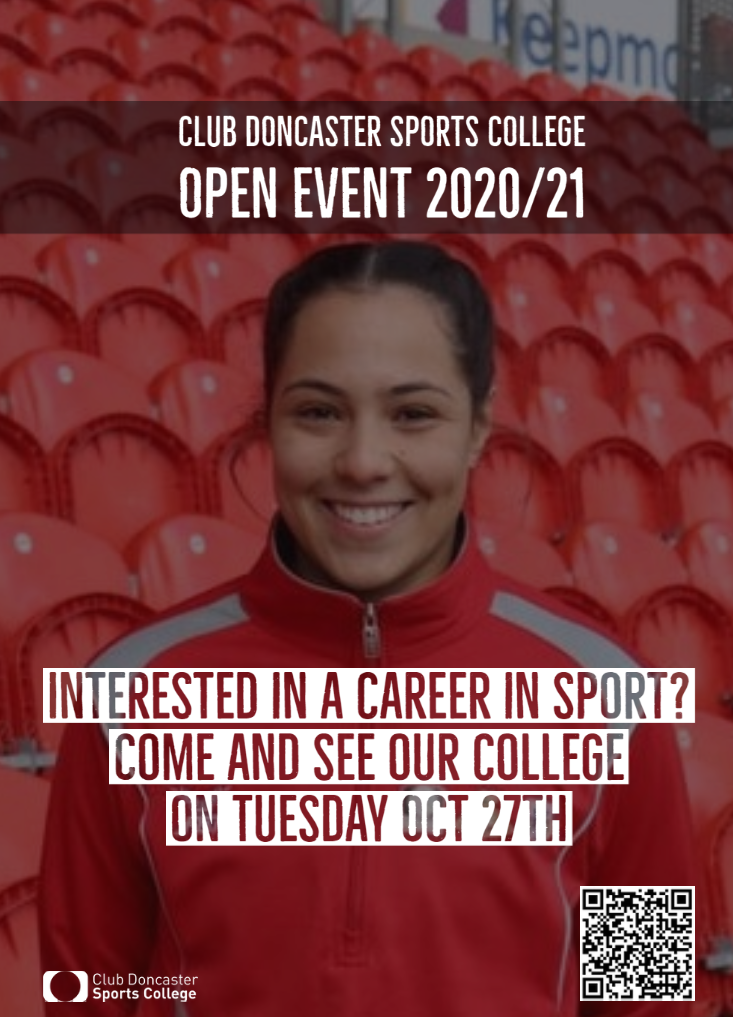 On Tuesday 27th October, the Sports College is opening it's doors to potential new students for 2021/22. The event is a drop in session at 4:30pm or 5:15pm. Find out more at: http://www.clubdoncastersportscollege.co.uk/careers-open-event/ or to look at a copy of the prospectus go to: http://smartfile.s3.amazonaws.com/4b249dd8ffa855ff3ec9e50dbbbc6ae5/uploads/2019/02/Club-Doncaster-Sports-College-2019-20-Prospectus-.pdf
Hungerhill school
Doncaster UTC

John Leggott College - Virtual Open Event, 17th October 2020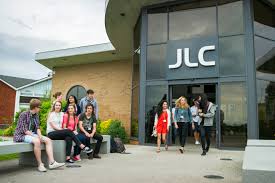 On Saturday 17th October, we will be hosting our first open Event of the academic year.
Our event will be virtual and will start from 9:00am, our event timetable can be found below.
You have an opportunity to tune into as many sessions as you wish.
We have created a page this page specifically for the event, where you will find the timetable for day and a link (on the day) for each session for you to click on. Please ensure you join the sessions promptly. Each session is 30 minutes long and we encourage you to engage in each session, ask questions and utilise the support from our staff.
We look forward to meeting you virtually.
We also have opened our 2021 application window!
Saturday 17th October 2020
https://www.leggott.ac.uk/virtual-open-event/
9:00 - 9:30am Principal Welcome
9:30 - 10:00am Tutorials and Academic Advocates
10:00am - 10:30am Careers and Employability at JLC
10:30am - 11:00am Subject Session 1
11:00 - 11:30am Extended Opportunities
11:30 - 12:00 Subject Session 2
12:00 - 12:30 Support at JLC
12:30 - 13:00 Subject Session 3
13:00 - 13:30 Hear it from our students
13:30 - 14:00Parent Q&A

North Lindsey College - Virtual open event 12th -16th october 2020
https://www.eventbrite.co.uk/e/virtual-october-open-event-tickets-122567266995?utm_source=Twitter&utm_medium=social&utm_campaign=SocialSignIn&utm_content=Open+Events+20-21
New College, Doncaster - virtual open event - monday 16th november 2020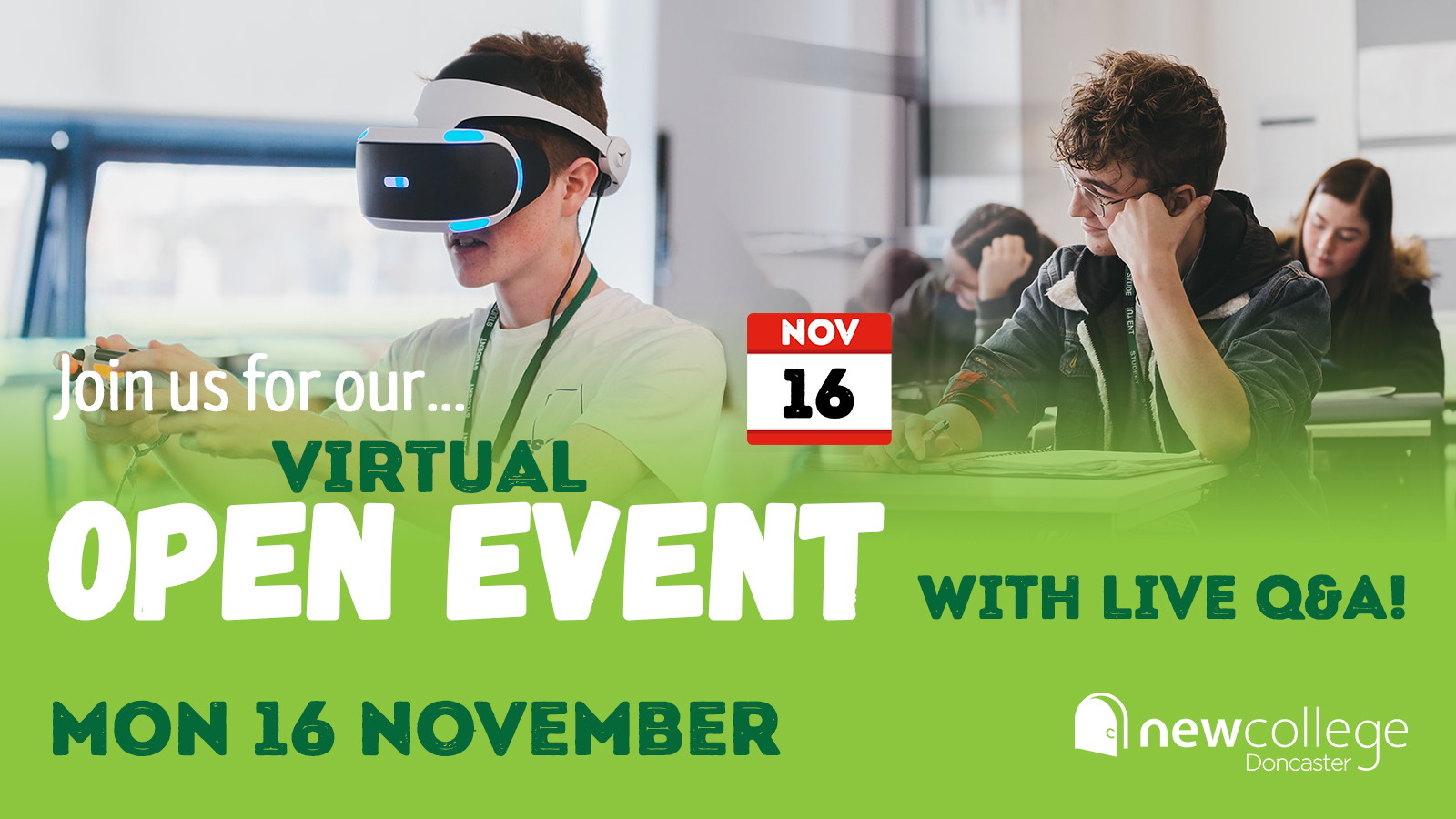 Ridgewood SCHOOL SIXTH FORM
Virtual Tour of Ridgewood School
Trinity SIXTH FORM ACADEMY - virtual open evening, wednesday 7th october 2020 - cONTENT AVAILABLE TO VIEW ON WEBSITE AFTER THIS DATE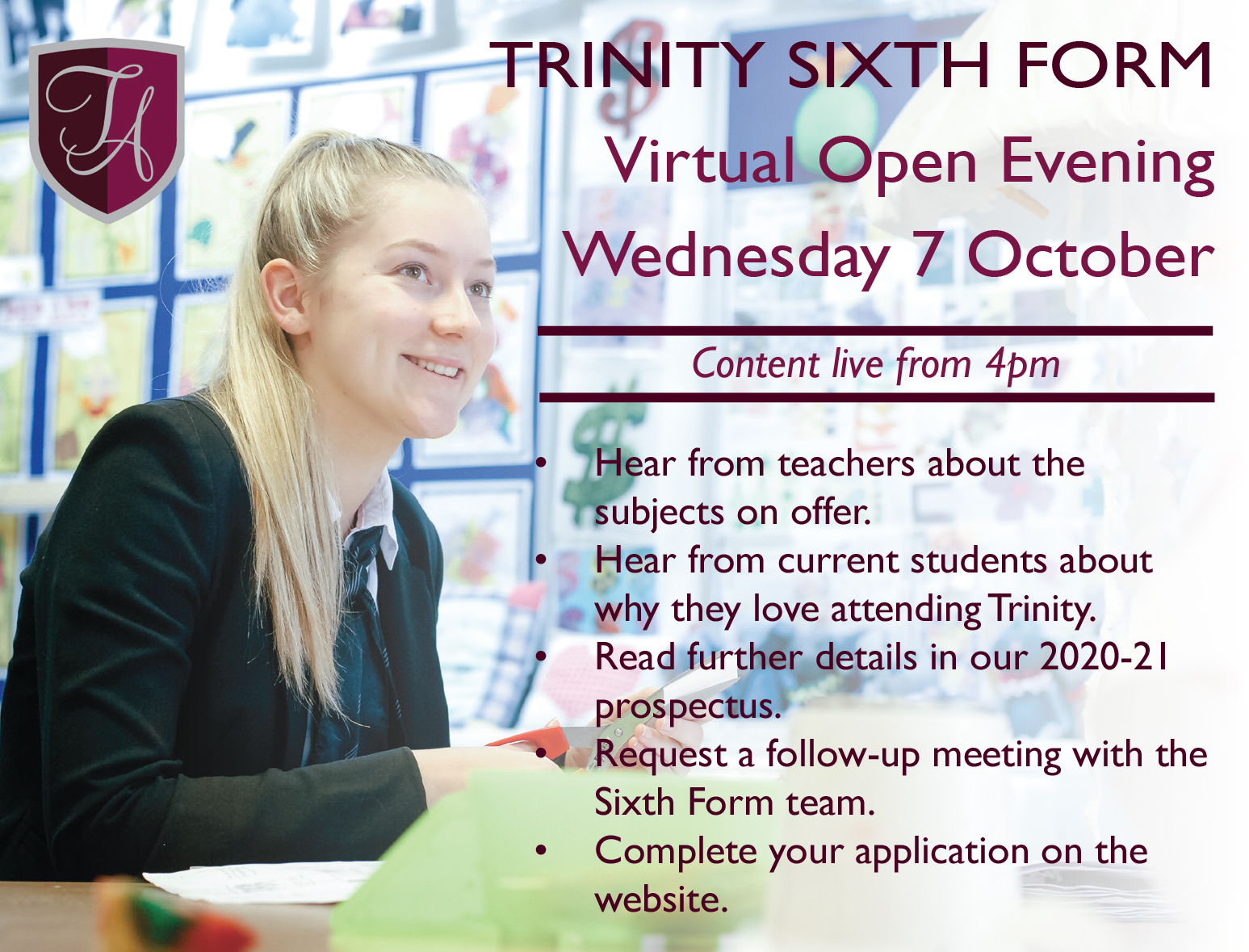 If you cannot view the open event live, the content will still be available to view on their website for a while afterwards. https://www.trinity-academy.org.uk/
Hall cross academy SIXTH FORM (DC6 - Doncaster central sixth form)

ASKHAM BRYAN COLLEGE - virtual open events - 7th Nov 2020, 30th Jan 2021 and 20th march 2021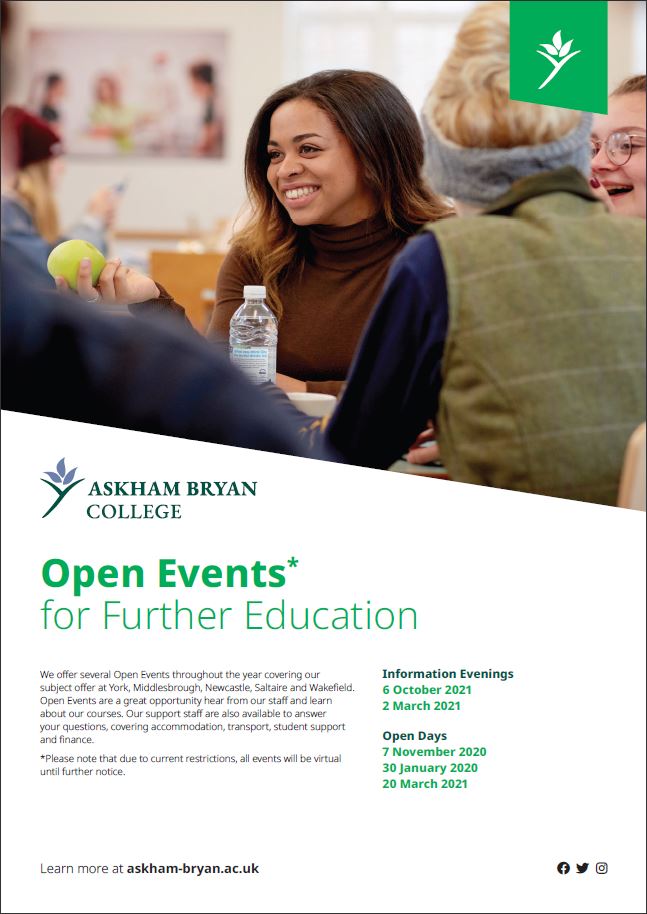 https://www.askham-bryan.ac.uk/the-college Please book on via our What's On page: https://www.askham-bryan.ac.uk/whats-on