Year 7 Football team - South Yorkshire Champions!!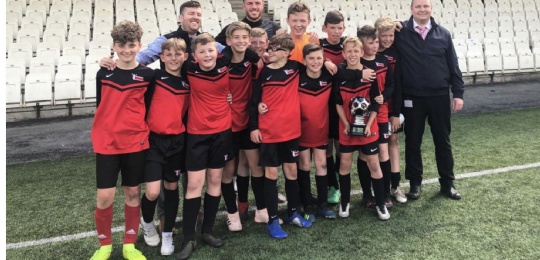 Our Year 7 Football Team are celebrating after winning The South Yorkshire Cup on penalties against Horizon School from Barnsley.
The final was played on Barnsley FC's training complex and on a very hot day all 12 players gave absolutely everything that they had.
After a bright start but failing to make our possession count our opposition came back into it in the latter stages of the first half and the score line of 0-0 at half time was probably about right.
We came out of the blocks quickly in the second half and took a deserved lead through a Harry Douglas penalty. The rest of the second half was a very tense affair but we were holding them off fairly comfortably until they scored a very scrappy goal late on to take the tie into extra time. Extra time came and went in a flash with no further goals although Alfie Williams nearly made himself a hero when he hit the crossbar with a stinging free kick, just a couple of inches lower and the cup would have been ours.
So the match eventually went to penalties and our lads remained calm throughout and managed to score all 5 of our kicks, leaving it down to Shay Buxton to make a wonderful save, tipping a strong penalty on to the crossbar…..the cup was ours !!!
The 12 who played on the day were absolutely fantastic but we also need to recognise all the other boys who have contributed to the team this year but just missed out on this particular day, Mr Smith and myself would like to thank:-
Shay Buxton, Reece Hogsden, Toby Betteridge, Sam Limber, Liam Lewer, Will Briggs, Finley McCormack, Joseph Dixon, Charlie Jones, Mario Gujan, Cody Ruddy, Mohamad Mirza, Zak Kellam, Ashton Gracey, Alfie Williams, Matthew Musson, Lewis Davis, Lewis Hannam, Charlie Goodchild, Elijah Maxey, Sam Robinson, Oliver Curran, Kenzie Dillon, Joe Needham, Ruben Revell, Harry Douglas, Sonny Quinn, Morgan Brookes, Jack Wood and Sefton Fisher. I apologise if I have missed anybody out. I would also like to thank Mr Smith who has been fantastic in giving up his time to be there with us every step of the way, what a guy.
We have already had a fantastic year, lifting The South Yorkshire Cup and only losing one game all season and we still have The Doncaster Cup Final to look forward. Come on Year 7, let's make it a cup double.
What a brilliant set of lads, they have been an absolute credit to Hungerhill School. Well done Boys !!
Mr Groocock