Congratulations, Class of 2017!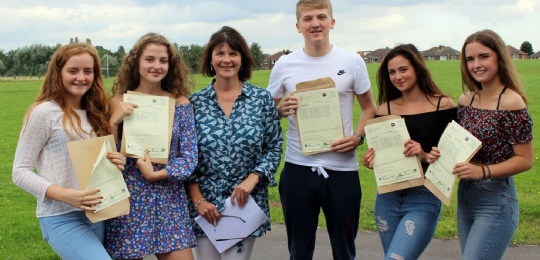 We are delighted with our students' exam performance in this year's GCSES. We have has some exceptional performances from a large number of students, with many securing grades well above national averages.
This is the first year of more challenging GCSEs in maths and English, as well as a new grading system using grades nine to one, rather than A*-G for both of these subjects. Although we cannot compare this year's outcomes to previous year's, we are indeed pleased with our students' performance across all subjects. Our most heartfelt congratulations go to the class of 2017!
Special congratulations must also go to those students who secured the very highest grades:
| | |
| --- | --- |
| Claudia Swain | Rebecca Wright |
| Isabel Hilton | Ben Howe |
| Fenja Tramsen | Adam Rogers |
| Maia Benstead | Alexander Harvey-Reid |
| Maddison McAnulty | Mia Brook |
| Emma Godfrey | Isabella Ramsay |
| Hannah Calvert | Lauren Swales |
| Charles Pratt | Rosa Clark |
| Niamh Harlington | Abbie Murfitt |
| Holly Anderson | Conor Gilmore |
To see more pictures from the results morning, please click here