Art, Craft, and Design
The Art department aims to make art and design accessible to all students. Art and design at Hungerhill school is a journey in which the destination is not always known. It is a journey of self-discovery, taking detours to explore and be inspired by new media, techniques, and ideas. We nurture the growth of developing minds by providing opportunities to explore, invent, express, dream, reflect and communicate. Art and design provides a safe environment for personal development, knowing that mistakes are encouraged as problem solving is at the heart of successful creative outcomes.
Our curriculum will:
Develop the character of all students
Our main priority is for students to become diverse thinkers who are not afraid to take risks and are happy to explore the world around them through researching traditional and contemporary artists leading to present a personal, informed and meaningful response.

Strive to achieve their full potential by being fully motivated and excited by their work.

Our schemes of learning fully support the school's core values of care, honesty, excellence, respect and resilience.
Ensure all students are literate and numerate
Throughout KS3 and KS4, students use their literacy skills to research and analyse a variety of artists to inspire their work.

Inference is demonstrated even more so at KS4 through visual language e.g. poetry, posters, paintings, lyrics etc to help influence their projects.
Symmetry; use of paint mixing as a ratio context

Grid method-enlarging an image onto canvas or paper then draw/paint exactly what appears in each box

Learn to draw 2D and 3D shapes to help draw accurately and in proportion from observation

Geometric and Organic shapes used when translating Music into an abstract painting
Build knowledge and aspirations of all students
The art elements acquired at KS3 are consistently re visited and further embedded at KS4

Students are provided with the opportunity to master skills, deepen understanding and to succeed.
Ensure all students have the secure foundations to progress into further education and employment
The course is structured to teach fundamental, creative and reflective skills using the art elements as its foundation. Through experimentation with a range of wet and dry media, students gain confidence and a 'can do' attitude demonstrating resilience.

A creative, problem solving thinker will develop a skill set for a wide range of careers such as; fine art, photography, ceramics and pottery, textiles and fashion, 3D design, jewellery and metal, sculpture, interior design, graphics plus many more.
Develop cultural capital of all students
Our aim is to ensure that all students have high quality art opportunities, regardless of circumstance or background

Students are introduced to a wide range of local and global artists

Students have lots of opportunities to enter art competitions

Lunchtime art club and after school sessions are available to all students
Students showcase their work at an end of year exhibition alongside Music, Performing arts and Graphic students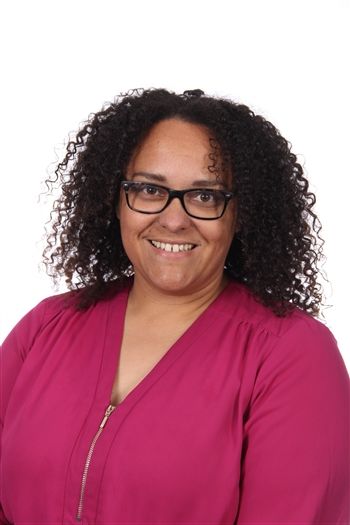 Miss S John-Lewis
Curriculum Leader
Art and Graphics KS3
​Main skills developed in Key Stage 3

​Observation
Imagination
Communication
Appreciation - critical analysis of the work of other artists and designers
Collaborative work
Analysis of existing designs
Pictorial composition including perspective
Research
Problem solving and communication
Experimentation with various media and analysis of results
ICT
Evaluation
Activities which develop a range of skills within a variety of contexts, which support individual, independent, analytical, and creative thinking which run through the course.

​How parents can help to support their son's/daughter's learning in Key Stage 3:

​Ensure your child brings protective clothing when needed, soft (e.g. 2B) pencil crayons to every lesson.
Look at, talk about, portraits by different artists and designers, visiting galleries and museums where possible. Please refer to the links below.
Encourage your youngster to draw in their sketchpad for pleasure. Drawing from observation is particularly helpful in developing skills.
Art, Craft, and Design KS4
Exam Board:

AQA

Qualification:

GCSE

Assessment:

Coursework 60%

Externally Set Assignment 40%

Outline of course content:

You will learn that art and design is about you, your ideas
and opinions, likes, and dislikes. You will become more independent
and have the chance to really study a theme in depth. You will also
have the opportunity to express yourself through thematic projects, e.g. portraits, still-life, surrealism, photography, ICT manipulation and graphic design.

Outline of course structure:

Students study a general art and design course in Years 9 and 10, covering many of the available areas of study thereby developing personal interests and strengths. This is in preparation for the ten-hour externally-set assignment which takes place in the spring term of Year 11.

Subject Content Year 9:

In depth development of media skills and techniques through a still life project which introduces the four GCSE assessment objectives. This includes the use of oil pastels, acrylic paints, photography and ceramics. The second project focuses on drawing the human figure from life and uses student's own photographs for development into a final outcome.

Subject Content Year 10:

Development of the figure project from year 9 into a portrait project, being self-portraits and portraits of an older person. Skills developed are tone, collage, print making, observational, photography, ICT and other wet and dry media. This project promotes students independence regarding choice of media and solutions. The final part of this project is a surreal based outcome which can be either 2D or 3D.

Throughout year nine and ten, students study the work of a range of artists from diverse times and cultures and are expected to display references to and inspiration from them in their own work.

Subject Content Year 11:

The final course work unit is a chance to develop a personal and unique project in response to one of seven starting points. This gives students an opportunity to be in control of their work as this reflects the skills needed for the final part of the course the Externally Set Assignment.

The ESA begins in the January of year eleven and is worth 40% of the final GCSE grade. Students will have approximately eleven weeks to develop a response to one of the given starting points and then will have ten hours unaided work in order to produce their final outcome.

Careers using Art, Craft, and Design:

This is a very wide area! It covers, amongst others, fine art, photography, ceramics and pottery, textiles and fashion, 3D design, jewellery and metal, sculpture, interior work, graphics, advertising, multimedia and web.

Job ideas might include:

Graphic design – working for a magazine or website to produce imagines and layout
Photography - the whole range, from photo journalism to being a self-employed wedding photographer
Textiles and fashion – working on fabric production and manufacture to designing clothes for the high street. Maybe working for a major store and making the decisions about which clothes to stock in a shop
Interior design – helping people plan their rooms, colour schemes, layout, style, and 'look'
Advertising and branding – working for an agency to help promote and sell products, producing campaigns and displays
Galleries and museums – helping put together displays and exhibitions
Product and 3D design – making things! Everything goes through a design process, however small or large
TV and theatres – creative people are required to produce TV and theatre sets and costumes
Jewellery making, crafting, animation, illustration, pottery – the list can be very long.

Progression:

A-level Art is offered by the vast majority of sixth forms and colleges. Some also offer A-Levels in Design, Fashion, Textiles, and Photography. The range of University courses is also huge, including all of the above and more. Specialist 'art' colleges, such as The Glasgow School, Slade, Chelsea, London School of Fashion etc. offer many degree programmes and are very popular. The range is so wide that a popular option after A-Levels is to complete a 'pre University' foundation course at your local college to experience lots of different aspects of art. This allows a more informed choice to be made about University.

Useful Links:

BBC Bitesize www.bbc.com/bitesize/subjects/z6hs34j

Student Art guide www.studentartguide.com

Local places to visit:

Doncaster Museum www.doncaster.gov.uk/services/culture-leisure-tourism/doncaster-museum-and-art-gallery

The Point Doncaster www.thepoint.org.uk

Sheffield Art galleries www.museums-sheffield.org.uk/

Hull Museums and galleries www.hcandl.co.uk/museums-and-galleries

Yorkshire Sculpture Park www.ysp.org.uk

Further afield:

Tate www.tate.org.uk

London Galleries https://theculturetrip.com/europe/united-kingdom/england/london/articles/the-8-best-free-art-galleries-in-london/