Year 11 Results Day 2018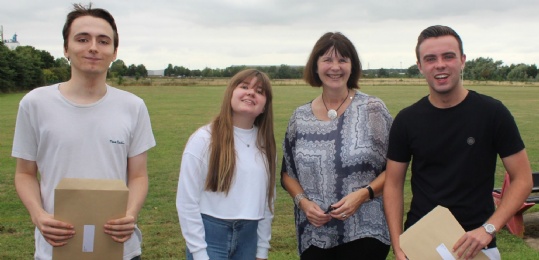 Congratulations to all our Year 11 students!
The school is delighted to celebrate the many successes of our fantastic students today who have secured another very strong set of GCSE results through their hard work and dedication.
This year, our students have received numerical grades in most subjects using the new 9 to 1 grading system. In spite of the new GCSEs being much more rigorous in a year of great educational change, many of our students have continued to secure the top grades, proving they have great determination and resilience.
I would like to extend our special congratulations to the following students who secured a string of outstanding grades and are the school's top performers in terms of attainment.
Kira Armstrong, Owen Atherton, Tom Beckett, James Donald, Molly Elliott, Jack Hillyer, Hana Jenkins, Cerys McIntyre, Laura Mitchell, Lauren Sayer, Rachael Sayer, Jai Smith, Ellie Vincent.

As well as congratulating our students, I would also like to congratulate and thank our staff who have invested endless amounts of time and energy in supporting our students through these changes. It has been a very challenging year, but one which has yielded great cause for celebration.

Mrs Helen Redford- Hernandez

Headteacher