Hungerhill Staff and Students Celebrate Great Results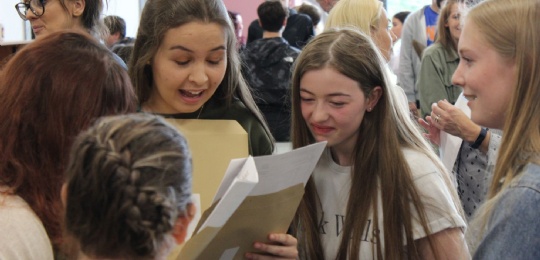 School Performance
Hungerhill saw some outstanding performances from a large number of students. The highest performers in the year group were Emma Marsh, Taylor Hacker, Martha Dixey, Hollie Murfitt, Emily Mawson, Amelia Haxby, Olivia Harlington, Lisa Daines, Megan Thompson and Matthew Monk.
We are also equally proud of those students who made the most progress since their time with us and we would also like to commend the following students for their incredible hard work and determination McKenzie Mangham, Tyler Curran, Lilly Anna McDonald, Joseph Hattersley, Madison Houlihan, Callum Prestwich, Alisha Skillcorn, Chloe Hunt, Luke Wooding, Laura Tomkins, Brandon Tobin, Ewan Martin and Lucy Rowley.
Students at Hungerhill study a challenging curriculum where they strive for excellence in order to maximise their potential. The % of students for this year group who chose EBacc options was 51.3% compared to the previous year of 17% which reflects the school's move to a more ambitious curriculum.
We are pleased to announce that at GCSE:
Early indications show that the Average Progress 8 score per student puts the school above the national average
80% of all students achieved a grade 4 and above in English
77% of all students achieved a grade 4 and above in Maths
71% of all students achieved a grade 4 and above in both English and Maths
The Average Attainment 8 score per student, puts the school in line with the top 20% of schools nationally
We are exceptionally proud of achievement in: Science, Art and Graphics, Drama, Health and Social Care, Media, Performing Arts, Psychology and ICT.