EFL U13 Girls Cup Competition Report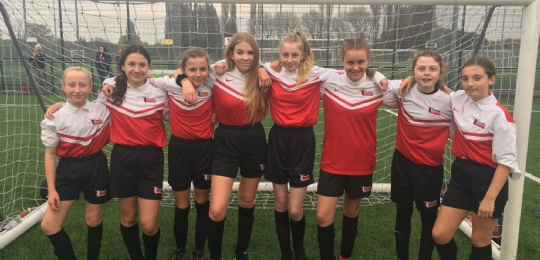 A fantastic afternoon was had at the Keepmoat with the U13 Girl's football team consisting of Georgia Campbell, Harriet Summerill, Evie Stone, Sofia Newbury, Megan Vickers, Ruby Duggan, Katie Liddle and Emily Taylor.
Ruby Duggan pulled off some fantastic saves in net to secure a 0-0 draw against Rossington in the first match. They then went on to beat Hall Cross 1-0 with a stunning strike from Sofia Newbury. A fantastic performance and improvement considering the heavy defeat they suffered a few weeks ago to the same team. Selby proved to be too strong in the next game, however, and the girl's suffered their first defeat of the tournament, losing 1-0. They didn't get their heads down though and bounced straight back, putting in a great performance against a strong Trinity team. After going 1-0 down in the first minute, some excellent defending from Evie Stone kept their main player quiet for the remainder of the game and allowed Harriet Summerill to go on and score the equaliser. The rounds finished with a 1-0 loss against Armthorpe A, a 2-0 win against Armthorpe B and a 3-2 win against Danum. 2 goals from Ruby Duggan, 2 more from Sofia Newbury and 1 from Emily Taylor meant the girl's progressed from the group stage into the semi finals. The girls battled hard in the rematch against Selby but unfortunately lost the game 3-2. Each and every one of them did themselves and the school proud. They gave 100% effort all day, demonstrated excellent teamwork and showed a real desire to keep improving! Well done!