Hungerhill Celebrates the 2015-16 Cohort!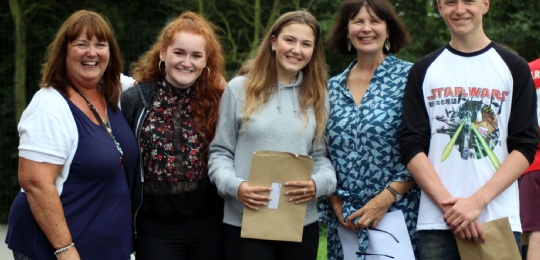 Elated staff and students at Hungerhill School today celebrated months of hard work and preparation with another set of outstanding GCSE results.
More than 76% of students achieved the gold standard of five or more A*-C GCSE grades, including English and maths. Results in core subjects are impressive, with 98% of students making at least expected progress in English and 81% in maths; the national average in 2015 for expected progress in English was 69% and 66% in maths.
Behind every headline, there are a number of individual success stories where students have triumphed, sometimes against the odds, to achieve their potential. This has been a superb year group who have worked incredibly hard to fulfill all our expectations, with many exceeding their ambitious targets.
Headteacher, Helen Redford-Hernandez, commented; "These are an exceptional set of results. I want to thank everyone for their hard work and commitment which has helped secure some of the best results the school has ever had; this is in spite of all the recent educational reforms and the greater emphasis on linear exams. The expertise we have in our school community, support from parents and carers, governors, dedicated teachers and the determination of our students, have all contributed to giving our young people the best start to their future. The results are indeed a testament to the school's ambition and strength in delivering the highest of educational standards."
There were some outstanding performances from individual students; the following achieved ten or more A*/A grades:
| | |
| --- | --- |
| Madison Burns | Brooke Duffield |
| Natasha Maddison | Chloe Day |
| Jessica Taylor | Abigail Deakes |
| Eleanor Beeney | Bethany Mitchell |
| Amy Booth | Alesia Fiddler |
| Reiss Clifford | Jessica Oliver |
| Eleanor Stokes | Olivia Blackham |
Key Headlines:
| | |
| --- | --- |
| 5+ A*-C inc. English & maths | 76% |
| 3 A*-A | 34% |
| | |
| English 3 levels progress | 97% |
| English 4 levels progress | 63% |
| Maths 3 levels progress | 66% |
| Maths 4 levels progress | 30% |
National Data (2015):
| | |
| --- | --- |
| English 3 levels progress | 69% |
| English 4 levels progress | 30% |
| Maths 3 levels progress | 66% |
| Maths 3 levels progress | 30% |