Hungerhill Boys Football Results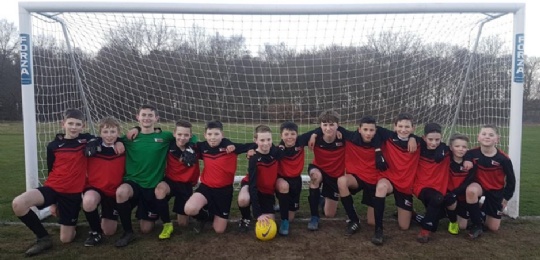 Boys football results Hungerhill Vs Hayfield (Wednesday 26th February)
| | |
| --- | --- |
| Year 7 | Hayfield 0-6 Hungerhill |
| Year 8 | Hungerhill 4-0 Hayfield |
| Year 9 | Hayfield 1-3 Hungerhill |
| Year 10 | Hungerhill 4-0 Hayfield |
Y7 Boys vs Hayfield (Match Report)
A dominant performance from the Y7 boys, earning a 6-0 victory against Hayfield in their opening league fixture. Kenzie Fowler showed excellent leadership skills by leaving everything he had out on the field. He played his role in central midfield with pace and aggression, winning the ball back at every opportunity and creating numerous goal scoring opportunities for his team mates. He even capped off his performance by putting away a penalty to make the final score 6-0. Diyar Mahmood was on goal scoring form again. The hat-trick hero was calm and composed in front of goal, dribbling the ball past the opposition's goal keeper in 3 one-on-one occasions to simply pass the ball into the back of the net. All in all, a fantastic team performance with goals also coming from Riley Trowbridge and Judge Stanfield. Once again, the boys showed excellent grace and character in victory, demonstrating full embodiment of the Hungerhill core values and setting the standard for future games to come.
Y8 Boys vs Hayfield (Match Report)
On Wednesday 26th of February, Hungerhill's Year 8 football team came out on top in a league clash against a strong Hayfield. With the implementation of a no training, no games policy it meant that we had no recognised keeper so Ruben Revell and William Briggs bravely stepped up to the task. We also had 2 debutants: Matthew Musson and Cameron Galbraith.
In the first half, the ball was crossed in and it unluckily hit the outstretched arm of Sam Limber and Hayfield were awarded a penalty which they converted. However, shortly after, a well worked goal finished by Morgan Brookes saw Hungerhill draw level 1-1 at half time.
Midway through the second half, Hungerhill won a corner which was cleared only as far as a lurking Sam Limber who struck the ball with precision into the top corner. With fifteen minutes to go, Sam Robinson got the ball inside the box and finished it into the bottom corner beating the diving keeper. In the dying minutes, Cameron Galbraith was on the end of a cross to finish the game at 4-1.
Man of the Match : Sam Robinson
Match report by Sam Limber (captain)
Y9 Boys Vs Hayfield (Match Report)
In the early stages of the game, we were strong and Shay Gilbert managed to score a goal to get us in front and we then had good possession for a little while.
However, Hayfield got in behind later in the half and we conceded a penalty which they put away to make it 1-1. Overall, It was a very even first half.
In the second half, we played really well and that paid off ten minutes in when Leon Perigo scored to get us back in front. Shortly, after we had another great spell of possession which resulted in Matthew Winterman scoring a great goal from outside the box. This put us 3-1 up and we went on to win the game. It was a brilliant win against Hayfield and now we go onto the next game against McAuley.
Match report by Bryan Dasilva (captain)