Coronavirus Information for Parents
UPDATE: 30th November 2020
We have been advised by Public Health England that there has been confirmed cases of Covid-19 within the Year 10 bubble. Letters have been circulated to all students informing them if they need to self-isolate. If you have not received a letter, please email covidletters@hungerhillschool.com.
Positive Coronavirus Test Result In the event of a positive coronavirus result, please email covidalert@hungerhillschool.comas a matter of urgency stating:
Student Name
Student Form
The date the student was last in school
The day symptoms started and the symptoms the student presented with e.g. high temperature, persistent cough, loss of taste or smell
Test Date
Students in child's friendship group e.g. close friends in the friendship group, who they socialise with at break/lunch, who they walk/travel to school with. These students must meet the direct contact criteria as set out by NHS Track and Trace Date of return for student as advised by NHS Track and Trace We appreciate students and parents/carers may want to alert friends and family whom they have been in close contact with of the positive result. Please can we ask that this information is not shared on social media as this is causing unnecessary panic and concern amongst the school community.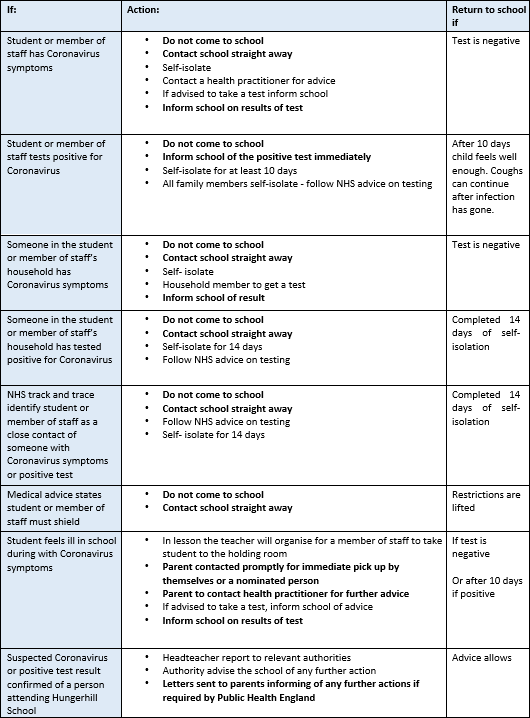 Please use the below link for further advice on symptoms in children and what you need to do. (Advice is subject to change)
As students return to school after a prolonged break, we expect colds and similar viral infections to circulate. Please follow the guidance on https://www.nhs.uk/conditions/coronavirus-covid-19/self-isolation-and-treatment/ if you are not sure whether your child has Covid symptoms. This will ensure that children are not unnecessarily kept away from schools and exposed to inappropriate testing. Sore throats and blocked noses are not symptoms of Covid and we would not expect students to be absent for more than 3 days if they are exhibiting these symptoms. It is important now more than ever that we do not lose any unnecessary learning due to the amount already lost because of Covid.