Coronavirus Information for Parents
Last Updated Monday 4 January 2021
Update: Monday 4 January 2021
Following the Prime Minister's announcement this evening, we will continue with our remote learning programme for all students.
Live lessons/pre-recorded voice over lessons will be delivered to exam year groups in Key Stage 4. Exam year groups include Year 9, 10 and 11 and they will be following their usual timetable.
Students will be expected to log onto Teams and take an active role in the lessons being taught. Students in Key Stage 3 will continue to access their bespoke timetable for the remainder of this week and we will review this for the week commencing Monday 11 January.
We will continue with our critical worker provision for those students who have already booked a place.
We appreciate that not all households have access to multiple devices e.g. laptops, tablets. Unfortunately, at this time, the school has not been allocated laptops that are available for families to borrow. We understand that this is not ideal. Live lessons will continue to be recorded so that these can be accessed at a later time, if necessary, due to the sharing of devices. Please contact your Head of Year if your child is unable to participate in remote learning and we will endeavour to supply paper resources.
We will be in contact with further information as and when we receive this. We appreciate that Year 11 students will now feel anxious with regards to the news about exam provisions. We will keep students fully informed as to how grades will be calculated, in the meantime we urge all Year 11 students to continue to engage with remote lessons and on-line assessments to ensure they are fully prepared in the event that these contribute towards final grades.
Protocols for a positive test result
In the event of a positive coronavirus result, please email covidalert@hungerhillschool.comas a matter of urgency stating:
Student Name
Student Form
The date the student was last in school
The day symptoms started and the symptoms the student presented with e.g. high temperature, persistent cough, loss of taste or smell
Test Date
Students in child's friendship group e.g. close friends in the friendship group, who they socialise with at break/lunch, who they walk/travel to school with. These students must meet the direct contact criteria as set out by NHS Track and Trace
Date of return for student as advised by NHS Track and Trace
We appreciate students and parents/carers may want to alert friends and family whom they have been in close contact with of the positive result. Please can we ask that this information is not shared on social media as this is causing unnecessary panic and concern amongst the school community.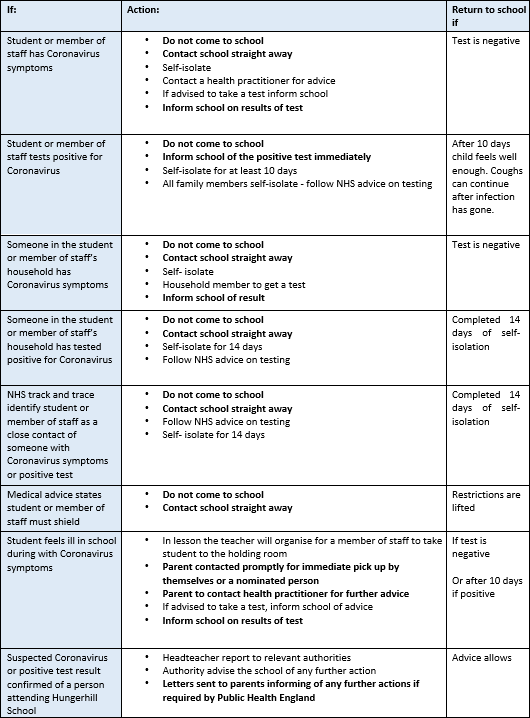 Please use the below link for further advice on symptoms in children and what you need to do. (Advice is subject to change)
As students return to school after a prolonged break, we expect colds and similar viral infections to circulate. Please follow the guidance on https://www.nhs.uk/conditions/coronavirus-covid-19/self-isolation-and-treatment/ if you are not sure whether your child has Covid symptoms. This will ensure that children are not unnecessarily kept away from schools and exposed to inappropriate testing. Sore throats and blocked noses are not symptoms of Covid and we would not expect students to be absent for more than 3 days if they are exhibiting these symptoms. It is important now more than ever that we do not lose any unnecessary learning due to the amount already lost because of Covid.