Inter-form competitions
What's been happening this half-term?
Year 7 took part in a Design a Form Logo competition. Each form group had to design a creative and colourful logo which represented their form group. The logos were judged by our Student Art Ambassadors and points were awarded and added to the overall leaderboard. The effort the students made was fantastic and the of standard of the logos was very high. After much deliberation the Art Ambassadors eventually crowned 7N as the overall winners. Congratulations to 7N who win the first year 7 competition this year.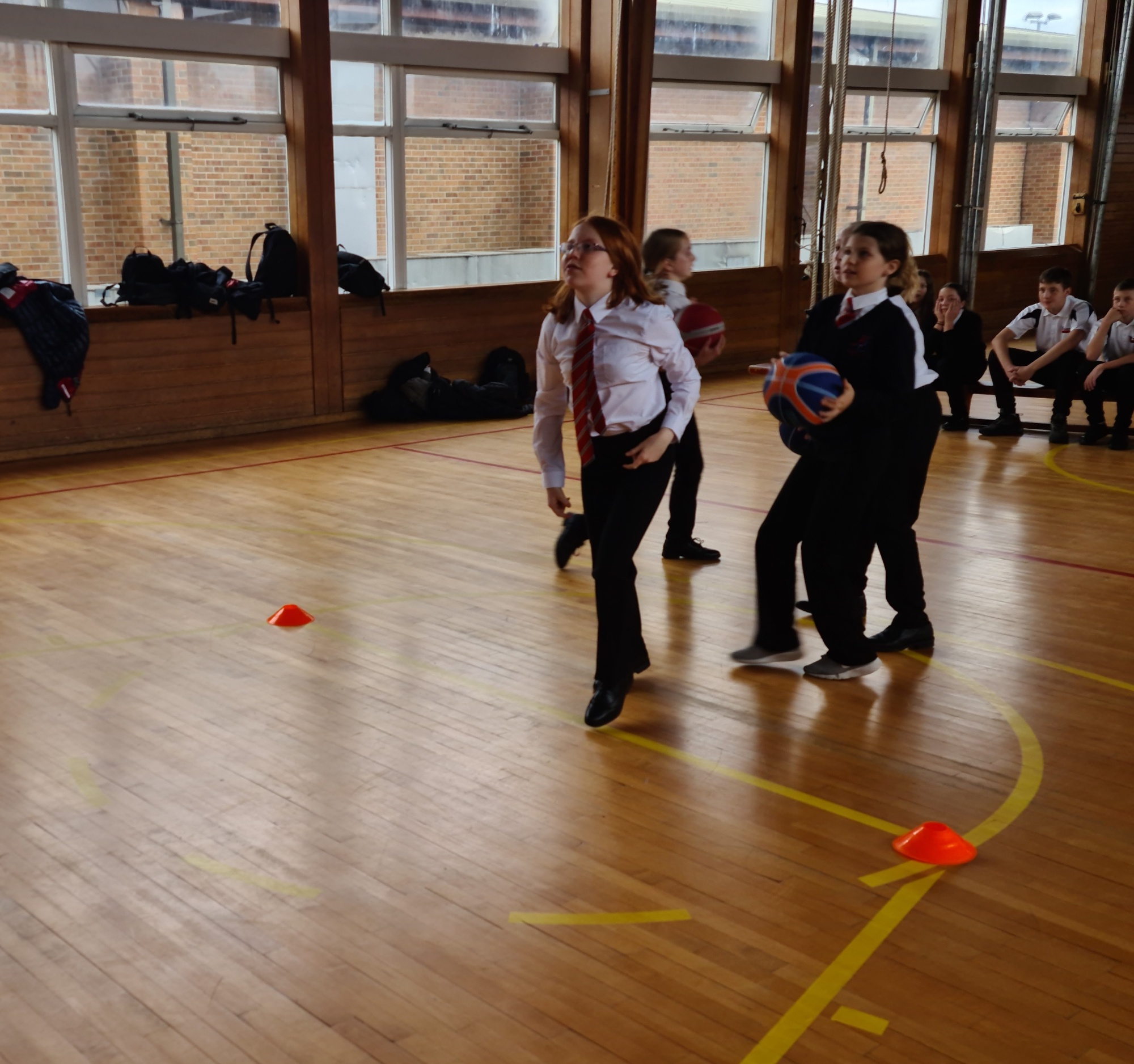 Year 8 competed in a Basketball shootout competition. A team of 5 students from each form had 3 minutes to shoot as many baskets as they could. It was great to see so many students take part over two lunch times. On both occasions there was a nice competitive atmosphere at the event. The competition was very close and resulted in joint winners of 8H and 8G who both scored a very impressive 20 points. Congratulations to both form groups and well done to all students who took part.
There was a wonderful atmosphere when the year 9 boys took part in a five a-side football tournament on a wet Wednesday evening. The weather didn't dampen the students spirts as the standard of football played was exceptional and the competitiveness between the form groups was great to see. It was a fantastic moment to see students enjoying the opportunity to play an organised sport again after such a long time.
The tournament started with forms being drawn into two groups and playing each opponent in their respective groups. The top 2 teams from each group then competed in the semi-finals. The first semi-final saw 9L Come up against 9E in a closely fought match which saw 9E Advance to the final. Semi-final 2 was then played out between 9I and 9G. Again, another tight match saw 9G victorious.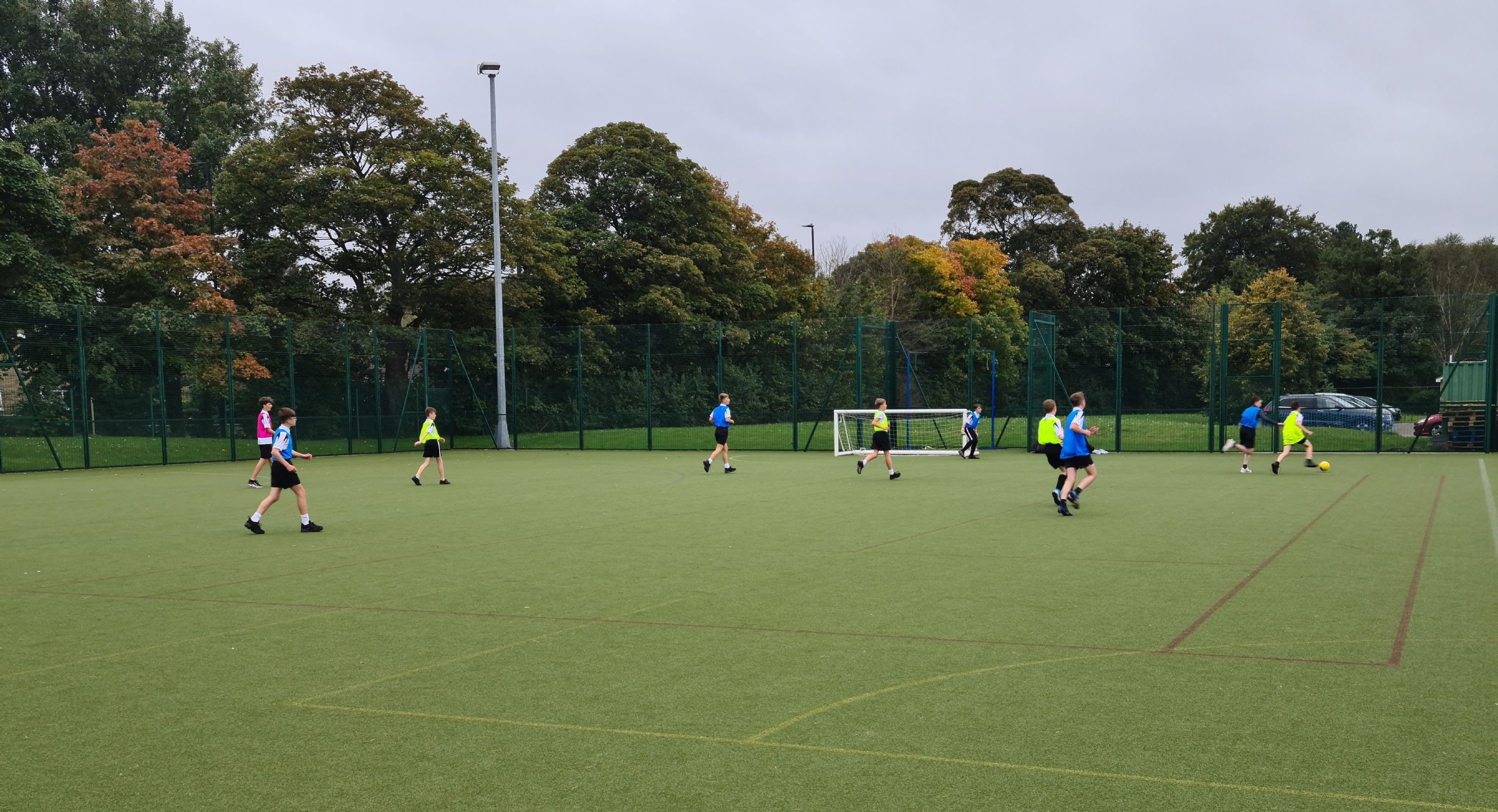 All that was left was to play was the eagerly anticipated final between 9E and 9G. The match was a tense affair with both teams reluctant to take risks going forward. With just a few minutes remailing 9G missed a glorious chance to take the lead and a little over 30 seconds later 9E broke away and took the lead. The teams exchanged goals in the closing minutes meaning 9E came out 2-1 winners and with it the title of inter-form football champions. Congratulations to 9E and all students who took part. Shay Buxton from the winning form of 9E said 'It was great to have the opportunity to take part in an after school activity after not doing so for so long'. Mario Gujdan added 'It really brought people in our form together and made us want to try our best for each other'.

Each Thursday morning all year 7, 8 and 9 form groups have been taking part in a general knowledge quiz. This has created a competitive buzz between form groups. The results for each week were added up to determine the overall winners. The results for year 7 were very close with 7U beating 7S by just 2 points. Congratulations to 7U who bank 9 points towards the overall leaderboard. The results were also extremely close in year 8, with 8E Just edging out 8R by just 1 point. Well done 8L. A big well-done to 9S Who are the half-term winners for year 9.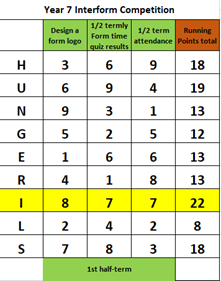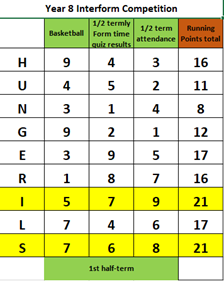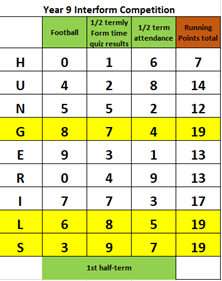 Well done to all students who represented their form groups this half-term and massive congratulations to 7I, 8I, 8L, 9G, 9L and 9S who will be presented with the Inter-form champions trophy during form time after half-term. All form groups will proudly display the trophy in their form rooms until the results are updated following the next round of competitions.