Results Day 2021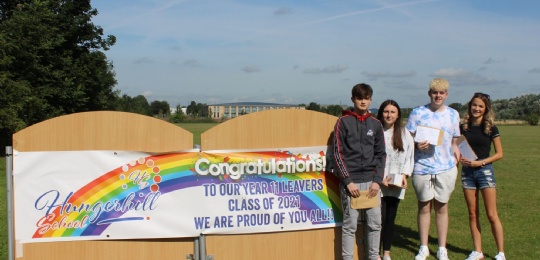 Excellent 2021 GCSE results were celebrated by students and staff at Hungerhill School today. 
Hungerhill saw some outstanding performances from a large number of students. We are delighted that these are some of the best results that the school has ever had!
We are extremely proud of the cohort and we would like to congratulate all of our students for achieving these impressive results. We hope that these results will enable students to continue on their pathways to success and reflect all of their hard work over the past five years at Hungerhill School. 
Some of the students who secured exceptional results were: 
Elizabeth Boldry
Sienna Bond
Charlie Booth
Wesley Clifford
Bethany Dixon
Lucas Gutteridge
Sudais Habib
Owen Dungworth
Mollie Peacock
Morgan Pennant
Dylan Raszewski
Daniel Robinson
Ellie Shemeld
Samuel Shipley
Harrison Stokes
George Turner
Gabrielle Walker
Abbi Watkinson
Eve Wren
We are also equally proud of those students who have made the most progress since their time with us, and their incredible hard work and determination during their time at the school has clearly been worth it:
Charlie Booth
Sonay Borucu
Aizik Brooks
Katie Canham
Bethany Dixon
Hannah Docherty
Mason Gallagher
Oscar Greaves
Sudais Habib
Ethan Hooton
Charlie Howsam
Kelly Huang
Lucie Hunsley
Amy Kaltz
Mike Lin
Grace Mitchell
Mollie Peacock
Daniel Robinson
Emily Rooth
Faith Smith
Matthew Stevenson
Harrison Stokes
Benjamin Taylor
Helena Taylor
Libby Wood
Eve Wren
Headteacher, Mrs Pond, congratulated students stating 'I am conscious that this has been a difficult and anxious time for our Year 11 students as a result of the coronavirus pandemic. As a school we are extremely proud of the cohort and I would like to congratulate all of our students for some excellent, well-deserved results. I would also like to take this opportunity to thank parents for their continued support and staff for their dedication and hard work'
Amongst the students happy with their results was Head Girl, Mollie Peacock, who said "I'm crying because I am speechless. Thank you for everything and thank you to all the teachers. I am full of pride."
Taylor Fox, Head Boy said "I would like to personally thank the staff for all their efforts during this last year. It has been incredibly tough for everyone but with all of their help it has been easier to get through. I have thoroughly enjoyed every minute of school, and it is something I will miss in later life. It has been an absolute please getting to know all the staff over the past 5 years, and it is definitely something I will never forget"
Matthew Stevenson, Student Leader said "I am excited and proud of myself and really happy with my English grade in particular."
Ariela Selita who joined the school in Year 10 said "I can follow my dreams and do my Health and Social course and do the things I am passionate about. Thank you to my teachers for supporting me through my time here."
Emily Rooth said "I did better than expected, all my hard work had paid off. I knew I was going to do better than my sister."
Tom Atkins said "I am happy because I got a high grade in PE which is what I need for my future course and career."
Sienna Bond said "after the year we have had, I am so happy with my results and I couldn't be prouder of myself."
We are pleased to announce that early indications show:
Average Attainment 8 score of 4.94

89.2 % of all students achieved a grade 4 and above in English
79.7 % of all students achieved a grade 4 and above in Maths

78.4 % of all students achieved a grade 4 and above in both English and Maths

71.4 % of all students achieved a grade 5 and above in English

52.4 % of all students achieved a grade 5 and above in Maths

50.6 % of all students achieved a grade 5 and above in both English and Maths
38.1 % of all students achieved a grade 4 and above in the EBacc qualification

22.9 % of all students achieved a grade 4 and above in the EBacc qualification

53.7% of students studied the EBacc Qualification