Hungerhill School bucks the National trend with a set of fabulous results which exceed those of 2019, 2020 and 2021.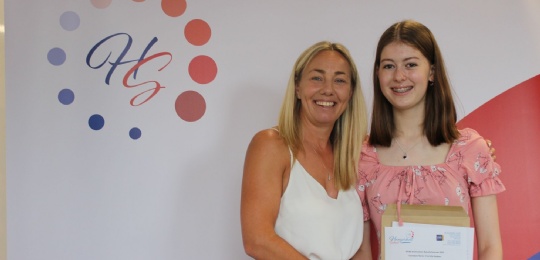 Excellent results have been celebrated by students and staff at Hungerhill School, with the school's Attainment 8 score rising to an impressive 5.11. A total of 50.6 % achieved the strong pass of grade 5 or better in English and maths while 74.1% achieved a standard pass in both.
Mrs Pond, the headteacher said 'I'm delighted for all the students and staff. Both have worked so hard and deserve their wonderful successes. Our students have shown great resilience to overcome the challenges that they have faced over the past 2 years and secured a fantastic set of results. The school is immensely proud of all students, and we wish them good luck in their next stage of their educational journey.'
Mrs Helen Redford-Hernandez, the CEO from the Brighter Futures Learning Partnership Trust has said 'I would like to take this opportunity to congratulate the students, their families and teachers for their positive GCSE results. The strong results achieved this year are of particular significance as this cohort of learners have faced tremendous disruption to their studies over the last 2 and a half years due to the pandemic. It is to their credit and determination that they have secured some of the best results in the school's history. I could not be more proud. A huge thank you goes to the staff of Hungerhill who have played such an important role in supporting them over this challenging period of time. They have truly gone above and beyond to ensure that teaching and learning have remained the highest of priorities despite all the challenges they have faced. Finally, we extend our sincere thanks to parents and carers who have given such great support to their children and the school. We recognise the challenge families have faced during the pandemic and we know the level of support and vital role they have played.'
There were excellent performances from individual departments; 87.4% of Year 11s recorded a standard level 4 pass in English, with 74.5% achieving the strong grade 5 or above. In Maths, 76.1% reached level 4 with 53% achieving grade 5 or higher. Students in separate sciences did particularly well with 98% achieving a grade 5 or above in all 3 sciences. Students studying Combined Science did equally as well, as strong passes were recorded by 57.5% of students.
The English Baccalaureate average points score rose to 4.8, which is especially significant as 47% of the cohort study qualifications to meet the requirements of the more demanding EBacc route. Impressive results from History, French and Geography greatly contributed to this success.
There were many fantastic achievements across other curriculum areas; particular mention should be given to Health and Social Care who secured 91.2% at a Level 2 Pass and above and Psychology who secured 87.5% at grade 5 and above, 62.5% at grades 7 and above and an impressive 34.4% at grade 9.
Congratulations to the following students who gained an impressive set of results including four or more grade 9s:
Lucy Allan
Tia Carter
Charlotte Hodson
Hassan Khan
Natasha Kozlowski
Nathaniel Elsom
Daisy Lister
Lara Morgan
Ben Munro
Lilly Ryan
Daniel Swain
Evelyn Wilson
Isabella Yates
Particular mention should go to both Charlotte and Nathaniel who achieved an outstanding eight grade 9s each.
As a school, we are however extremely proud of all our students' successes - each are talented individuals who can achieve great things.
We would like to thank parents/carers for the support given to their child over the course of the last 5 years. The partnership between home and school is so important. We would also like to give a final special mention to our superb team of staff. They have faced tremendous challenges over recent years but have adapted admirably to ensure each student has had the best chance to achieve success.