Activities, Competitions, Quizzes and more
Weekly Activities in the Library:
Lunchtime
All students are welcome to come to the library to relax and chill. This is a great opportunity for students to share books with friends and enjoy reading with other students. In the lunchtime our library offers three enrichment clubs: Reading, Mindfulness Colouring, Board games (including Chess) and Computer/Homework.

Enrichment clubs are waiting to be explored.
Whether you let your mind wonder through the deepest darkest crooks of your favourite books, spend time alone in the silent area taking a minute to relax, working hard to complete your homework to strive to your very best or break free from the daily standards and colour outside the lines.
Pop in the library.
---
Annual Activities:
Christmas Activities (December)
The library celebrates the festive season by hosting craft activities for students to take part in throughout Advent.
From ornaments making to Christmas lights holders we managed to entertain not only students but school staff too.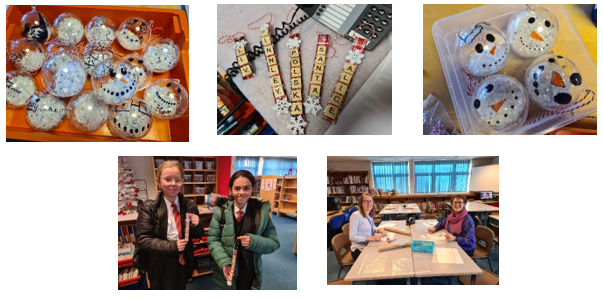 World Book Day (March)
time to celebrate books! The staff of Hungerhill all show their support by dressing up as book characters and always get involved in the staff competition.

Competitions:
Accelerated Reader – Reader of the Year
On the end of every school year during Accelerated Reading lessons one student from year 7 and one from year 8 wins a prize for most read words.
Those are the winners for 2022/23 school year:
Year 7 – Dominik G
Year 8 – Martha P
They won £25 in love to shop vouchers, book and reading trophy.
Congratulations!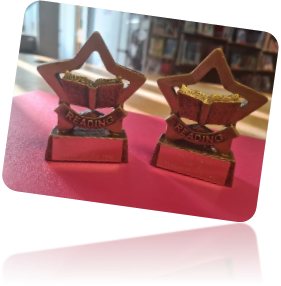 New Books
The Library is an extremely popular place for students to chill out during their break and lunchtimes, reading quietly with their friends.
We like to keep our collection fresh with some of the latest releases, so new books are always being purchased and put out on display.
Recently added: