Apprenticeships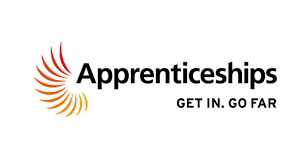 What is an Apprenticeship?
An apprenticeship is a real job with training, so you can earn a wage while you learn and become fully trained in your chosen occupation by the end of the apprenticeship.
Apprenticeships are open to people of all ages over the age of 16, enabling people to improve their skills and progress in their careers.
How does an Apprenticeship work?
An apprenticeship is a programme that trains a worker to become skilled in a particular trade. Apprenticeships combine hands-on work with classroom learning to train the apprentice. Apprenticeships are considered full-time employment. As the apprentice is learning, they are also applying the lessons through working.
What levels of Apprenticeships are there?
The levels of apprenticeship are Intermediate, advanced, higher and degree apprenticeships.
Each level has different entry requirements, and each apprenticeship vacancy will specify what these are, along with the qualities the employer is looking for. For higher and degree apprenticeships, employers generally ask for A-levels and other Level 3 qualifications.
What types of Apprenticeship are there?
There are now hundreds of options enabling you to enter a wide range of professions via the apprenticeship route.
Whether you want to work with children, animals or in nature, in media or marketing, in business, admin or education, there are options available. For those with an interest in sectors such as engineering, manufacturing, transport, health or public services, IT, hospitality, hair and beauty, textiles and fashion or hospitality and catering, there is an apprenticeship to suit.
For those who wish to receive training, qualifications and work experience in one of the more traditional trades, such as in plumbing or as a heating engineer, there are lots of apprenticeship opportunities across the country with a wide range of employers. This could provide a great start to a new career that means you earn a wage whilst training and gaining the qualifications you need to progress once the apprenticeship is complete.
Find out more at:
https://www.apprenticeships.gov.uk/
For current vacancies go to:
https://www.gov.uk/apply-apprenticeship
Apprenticeship providers local to Doncaster include:
Aldi, Amazon, Ardagh Group, Boots, Doncaster Racecourse, Doncaster & Bassetlaw NHS Hospitals Trust, Doncaster Council, Hitachi Rail, Keepmoat Homes, Network Rail, NEXT, Northern Rail, Polypipe, Stoneacre, Wabtec, Webasto, Yorkshire Water and many more.