Home Learning
At Hungerhill School we recognise and value the contribution that learning in the home environment can make to a young person's education. We strongly believe that it is one of the key mechanisms through which we can help students achieve their full potential. It is therefore an expectation that all teachers set appropriate home learning and that the school works in partnership with parents/carers and students to ensure that it is embedded in the learning culture of the school.
Home learning is a key component of the curriculum provision at Hungerhill because there is a strong link between home learning and educational achievement. The completion of home learning can increase the time available for study by nearly 25%: over a five-year period, this can be equivalent to at least one additional year of full-time education.
The Hungerhill home learning policy is built around the importance of retrieval to embed the knowledge and skills students learn in lessons.
"Retrieval practice is where we focus on getting the information out."
Ebbinghaus' forgetting curve (below) shows that when you first learn something, the information disappears at an exponential rate, i.e. you lose most of it in the first couple of days. It also shows that the more times you revisit and review learning, the better you will remember it and commit it to long term memory. Through the act of retrieval, students' memory for information is strengthened and forgetting is less likely to occur.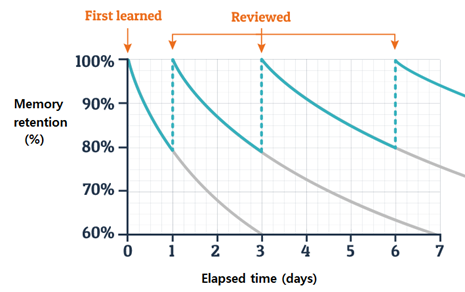 Home learning is set by teachers every 2-5 lessons and all home learning tasks are set through 'Assignments' on Microsoft Teams. Home learning tasks can be retrieval tasks on Microsoft Forms, for example a multiple-choice quiz or an exam question. Staff will also set extended writing activities and exam practice to support students in the further application of the knowledge that they are studying in the classroom. Students are expected to record brief details of the task in their planner, along with the completion deadline: we ask for the support of parents/carers in checking your child's planner and assignments on Teams to encourage them to keep on top of the home learning tasks they have been set.
Bonuses, rewards and positive texts to parents/carers for achievement and sustained effort will be regularly awarded for good home learning. Students who go above and beyond with their home learning will be recognised through 'Home Learning Hero' postcards each month and students receiving these postcards gain achievement points. Students with the most home learning points each half term will be recognised by SLT and rewarded further.
If home learning is not completed and submitted by the deadline, students will be issued with an 'IN2' on SIMS and their home learning effort will be reflected in their attitude to learning grades. Ongoing concerns about repeated non-completion will be followed up by teachers with a phone call to parents/carers. Students who repeatedly do not complete home learning can be referred to the home learning support sessions as detailed below.
Microsoft Teams can be accessed on any device (such as a mobile phone, gaming console, laptop, tablet etc), however if students do not have access to an electronic device on which to complete the home learning tasks, home learning support sessions run from 3.10-3.40pm in IT4.