ICT ​​​​​​​
You will learn how to use industry standard software to develop products that meet the needs of a specific audience and purpose.
This course will be good for you if you are interested in working in web design, graphics or digital art, media animation, games design, or any profession that involves creating promotional material, websites, or graphic products.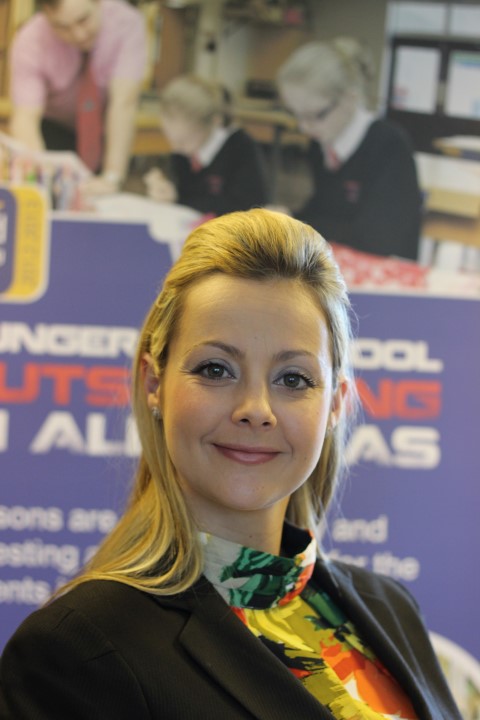 Mrs M Renney
Joint Curriculum Leader
Mr D Short
Joint Curriculum Leader
Information Technology KS3
Currently there are a lot of changes happening to the KS3 ICT curriculum so this information is subject to change.
​Main skills developed in Year 7:
​Main skills developed in Year 8:

Autumn:

​correct file management techniques
responsible use of the internet and e-mail
using relative criteria to find information
staying safe in the virtual world
website design and layout
insert text and images into website authorising software
create interactive elements on a website
insert audio and video

Spring:

create graphics for a game
sequence instructions to develop a mathematical learning game for KS1
develop a range of skills in scratch software, understanding of script blocks, sequencing, variables

Summer:

plan and create a proposal for a charity fundraiser event
Create a spread sheet to show income, expenses, and profit
Use appropriate software to create a range of promotional items for the event

Autumn:

​Use search engines effectively
Use illustrator to create a net for a 3D character
Develop skills in Illustrator to design the 3D characters

Spring:

designing for an audience and purpose
design the pages for a digital magazine, identifying images and assets required
collect and edit images and multimedia assets

Summer:

code simple programs in Python
understand data types and type casting
understand how to concatenate strings
understand conditional looping and write programs using loops
understand conditional statements

​How parents can help to support their son's/daughter's learning in Year 7:
​​​How parents can help to support their son's/daughter's learning in Year 8:

​ use the Virtual Learning Environment to view student's work which they have produced, and review the targets which have been set for them on their virtual mark sheet.

develop enterprise skills through design of a corporate identity, design and build a product (educational computer game), promote the enterprise product
developing a range of personal, learning and thinking skills within a variety of contexts​​
use the Virtual Learning Environment to view student's work, which they have produced, and review the targets which have been set for them on their virtual mark sheet.
CiDA
Exam Board:

Edexcel

Qualification:

BTEC

Assessment:

Coursework (controlled assessment) 75%

Practical examination (developing web products) 25%

Outline of course content:

You will learn how to create elements for the web including interactive products, graphics, and multimedia. You will create websites for a range of audiences and purposes, and will use vector and bitmap tools to create graphics.

Outline of course structure:

Unit 1 is about creating web products and is assessed by a 2.5 hour practical examination, in which you will be required to build a website and create the assets that it requires. You will learn how to create buttons and navigation bars, set up hyperlinks, embed video and audio, and how to format the appearance of your pages.

Coursework will either be based on graphics (unit 3) or multimedia (unit 2). In the graphics unit, you will learn how to create, edit, and repurpose graphic images for a range of audiences and purposes. You will work with vector and bitmap tools using the Adobe Creative Suite software, such as Photoshop and Fireworks.

In the multimedia unit you will learn how to create, edit, and repurpose multimedia elements, such as video, audio, and animation. You will have the opportunity to create your own multimedia products, such as a radio advert or promotional video.

In both units, you will plan and track your progress and present your work in a digital portfolio (e-portolio).
ECDL
Exam Board:

BCS

Qualification:

European Computer Driving Licence (ECDL)

Assessment:

Four-part assessment in which you will demonstrate your understanding of office software and increasing productivity, using simulated applications in a practical examination.

Outline of course content:

ECDL is the benchmark for digital literacy in educational systems around the globe.

This course equips you with the skills to use a computer confidently and effectively, building on existing knowledge and motivating further learning. The course focuses on developing functional skills required in the workplace, including office applications such as word processing, spreadsheets, databases, and presentation software.

Outline of course structure:

how to increase digital literacy and use computers safely and effectively
how to use common office software, such as Microsoft Office
how to increase productivity in an office environment.

Careers using ICT

IT is used in almost every work place you can think of; offices, schools, call centres, factories, warehouses, hospitals, the Armed Forces. The list is endless!

Skills and how the subject relates to work

To work in the area of IT, you'll need to be a good problem solver. IT work is usually about sorting out things which have gone wrong, working out how something can be done more effectively, or planning how a task is to be carried out.

IT work often involves being part of a team, so teamwork skills are important. Communications skills are also essential. You may be dealing with lots of people in an organisation who are not IT specialists, and it's important you can explain things clearly to them and understand the help they need.

Potential jobs:

Development jobs: The IT industry is always looking to improve aspects, such as hardware, software, and operating systems, etc. Consider how phones, tablets, laptops have changed in the last five years. If you've got the right skills would this be a great job for you.

IT managers: Think about huge organisations such as the NHS, the Armed Forces, Government departments, Local Government, and Universities. They all need to make sure they have up to date systems, systems which may need to be up graded, systems which are virus free, and all managed within a set cost. Are you interested?

'Tech' support: Think about any organisation; who makes sure the staff have an IT system they're able to use? Who helps the staff if things go wrong? Answer: 'Tech' support. Some companies employ people on site to do this, others use specialist companies (often overseas and it's all done by phone or 'remote access'). All the big UK media companies (Virgin, Sky, Plusnet) have call centre support for people using their products.

Websites, multi-media and Interactive systems: What about websites and the internet? Designing, developing, adding graphics, and moving images all require people with IT skills. Most companies now have social media (Facebook and Twitter); who keeps these up to date? Many design and marketing agencies employ people with IT skills to develop websites, produce adverts, and so on.

Print media: IT skills are needed in the magazine and newspaper world. How about setting out the pages of a magazine or promotional material?

Games, animation and 'special effects': Have you seen the film 'Gravity' (set in space)? No-one actually went into space to film it. The main actors didn't leave the USA, but all the images were created in London and the actors superimposed on to them. The people doing this have excellent creative skills but are also IT experts.