Year 6 Transition
Year 6 Transition
Welcome to Year 6 students, parents and carers who will be joining us at Hungerhill School in September 2022. This is a new page designed to keep you informed about our transition process, and we hope to be able to post useful information over the coming weeks and months to keep you up to date. Please rest assured that we are currently looking at ways to make this year's transition process as smooth and informative as possible for all, during these unprecedented times.
Update 12th September 2022 - Year 6 Open Morning and Open Evening
Year 6 Open Morning - Thursday 22nd September 2022 - 9.15am until 12pm - Bookings only
Year 6 Open Morning – Wednesday 28th September 2022 - 9.15am until 12pm - Bookings only
Year 6 Open Evening - Thursday 6th October 2022 - 4.30pm until 7.00pm - Bookings only
Year 6 Open Morning - Friday 7th October 2022 - 9.15am until 12pm - Bookings only
We look forward to welcoming prospective students and parents to our Open Morning and Open Evening on the above dates. Please be aware that both events will require you to book your timeslot in advance. Further details about how to book your place will be provided here soon.
To book your place, please click the link below. Please follow the prompts, completing all information fields and click the 'Register' button to complete your booking. You will receive a confirmation email.
https://www.eventbrite.com/cc/year-6-open-events-20222023-1153329
Update 31 August 2021 - Packed Lunches Thursday 2 September and Friday 3 September
Year 7 students will be required to bring a packed lunch on Thursday 2 September and Friday 3 September, those students in receipt of free school meals will receive a meal at school.
Students will be able to purchase meals in school from Monday 6 September.
Apologies for any inconvenience caused.
Student Registration Form - Year 6 to 7
We ask parents of students who are joining us in September to complete all the requested information by 7pm on Monday 5th July 2021. It is paramount this form is completed to enable us to gain all the necessary contact details, parental permissions and to confirm your child's place at Hungerhill. Please click here to access the form.
Transition Summer School - 16th to 20th August 2021
We are delighted to be able to release full details of our Transition Summer School for all Year 6 students who are moving up to Hungerhill School in September. Online booking is now open and will close on Thursday 15th July 2021. To book your child's place, please click here.
For full details please click here.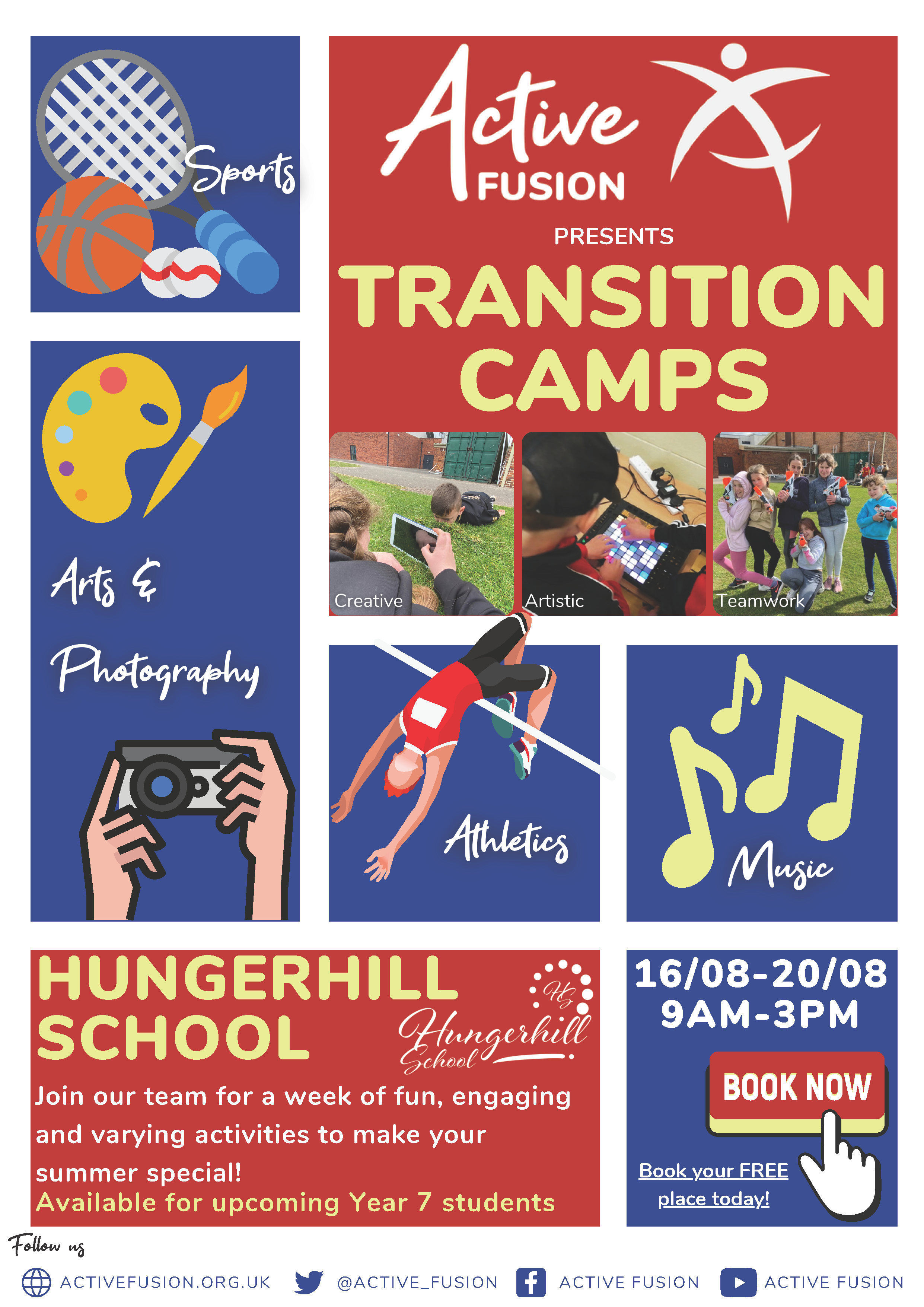 Open Evening Update
Despite the restrictions in place, we are delighted to still be able to offer parents and Y6 students starting at Hungerhill in September 2021, the opportunity to come and have a look at the school on Monday 28th June. We will be opening our gates from 4.30pm until 7pm, with the following guidelines in place:
Parents will need to book a time slot for their arrival, indicating on the form their first two preference — a time confirmation will then be sent out and times will be allocated on a first come, first served basis. We would appreciate your flexibility to help ensure safety and a successful evening
Families will be required to follow Government guidelines on social distancing and remain strictly in family bubbles whilst moving around the school site
Hand sanitisers will be available and should be used at regular intervals.
Families should be equipped with face coverings as there may be a requirement to wear them for specific situations (e.g. during conversations with members of staff).
Families will take part in a 'Treasure Hunt' activity around the school site to familiarise themselves with the school.
Families will have opportunities to talk to members of SLT during the Treasure Hunt activity.
Families should be aware that, as the evening will take place exclusively outdoors, they will need to be prepared for inclement weather.
Families will have the opportunity to take home a 'Starting at Hungerhill' brochure, containing lots of information for both parents and students.
We look forward to seeing you there. Please click here to book your place.
Please keep checking back on this page for further updates as some of the information we would have liked to have presented to you on the evening will soon be available through videos and literature.
360-degree video tour
As you haven't been able to visit us yet, we created this 360-degree video tour of Hungerhill in the last lockdown to show students around. The tour gives a nice overview of our school and shows you all of our different areas. The school may seem big but, don't worry, you will soon find your way around!
Year 6 Transition Days and Parents Information Evening
We are hoping to be able to hold our face-to-face transition days and Parents Information Evening if restrictions are lifted. You will now have received an email invitation to our transition evening for parents and students that is set to take place on 28th June 2021. More information regarding our transition days for students, including dates and times, will be circulated by email shortly.
Uniform
Please have a look at our video that explains all you need to know about our school uniform. It also gives an outline of our school rules regarding jewellery, makeup, and hair as well as information about bags and shoes. To order your child's uniform, please click the 'School Uniform' button in the menu bar to the right of the page; this will take you to our uniform page from where you will be able to link directly to our nominated supplier. Alternatively, you can book a personal slot with our supplier to visit the shop, please click here to see the following letter with a link to book your slot.
PE Kit
Please watch this video to see full details on our PE Kit as well as further information about the Physical Education Department in general.
For further details about the PE kit, including how to order the kit seen in this video that contains the PE department logo, please click here.
Stationery List
You may be aware that in previous years we have offered the opportunity to purchase a stationery pack through school. This year we are, unfortunately, unable to offer this due to difficulties with suppliers and the logistics of collating your orders and payments. Please see the full list of stationery that is required.
Starting at Secondary School - BBC Bitesize
We know that starting at secondary school can be both an exciting and a worrying time for both students and parents/carers. There are some great resources on the BBC bitesize webpage that have been created to help both parties prepare for this process given the additional challenges that we are all facing this year. It is well worth spending some time looking through these with your child, they and you may find them very helpful and they may prompt some important discussions between you.
Click here to access resources
Starting at Hungerhill Pack
This will be circulated to parents week commencing 3 May 2021.
Frequently Asked Transition Questions
We hope that you have found all of the information you have received so far helpful. If you still have questions, please check out our here FAQs section, where you may find the answers, here
Pre-owned uniform and stationery
We are delighted to inform you that we have begun to receive donations of pre-owned uniform and PE Kit that is in excellent condition. We are washing and pressing this to make it available for collection. More details to follow shortly.