Charity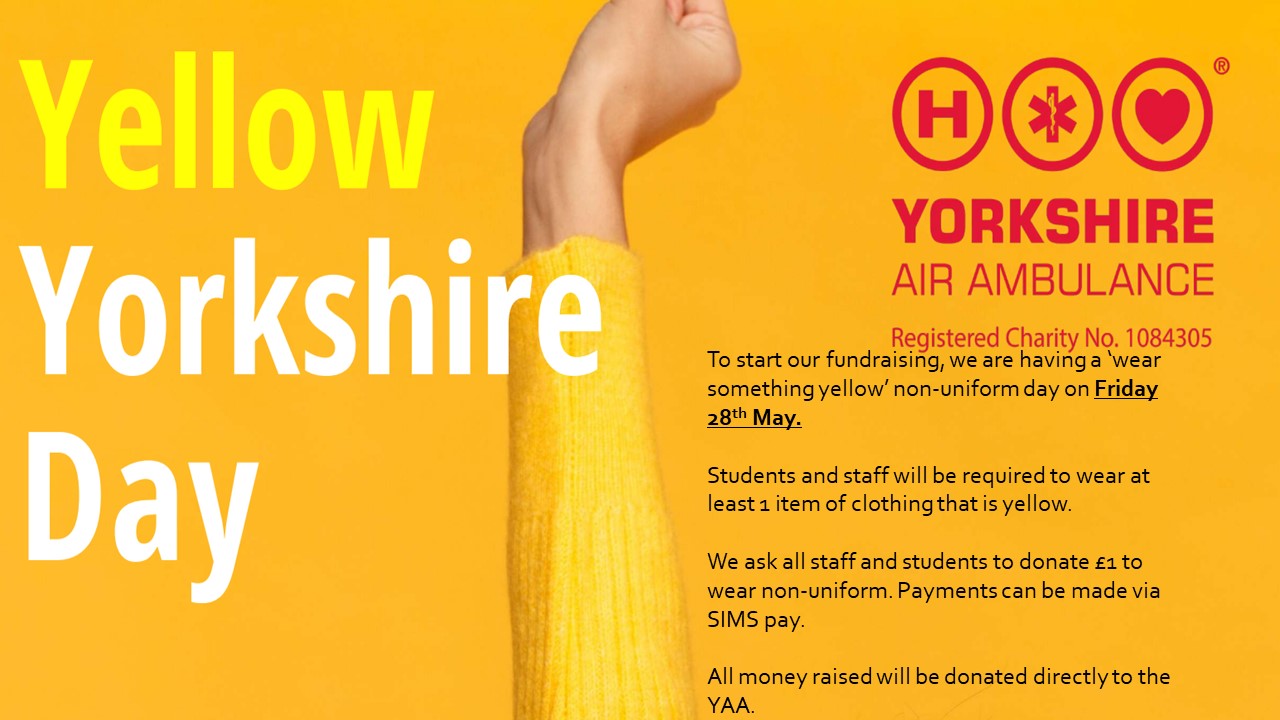 Fundraising
Over the summer term our aim as a school is to raise £6,000 for the Yorkshire Air Ambulance. This is the cost of running one of their air ambulances for a full day. Form groups from all year groups will be working together to raise as much money as possible throughout the term.
To begin the fundraising, we will be holding a 'wear something yellow' non-uniform day on Friday 28th May.
Then on Thursday 24th June we are going to run a 12-hour fitness marathon day from 6am-6pm. The aim is for staff to continuously run a treadmill, exercise bike and rowing machine for 12 hours. This will be done on a rota basis throughout the day. Students will also come out for one period on the day to complete a series of fitness challenges.
Each form group from years 7-10 will be hosting their own charity event during lunchtimes and after school.
The Yorkshire Air Ambulance
The Yorkshire Air Ambulance is an independent charity providing a lifesaving rapid response emergency service to 5 million people across the whole of Yorkshire.
To keep both the Air Ambulances maintained and, in the air, they need to raise £12,000 every single day, which is the equivalent of £4.4m a year. The generosity that they receive really is the life blood of the Charity.
The Yorkshire Air Ambulance is 100% charity funded
It is a common misconception that the Yorkshire Air Ambulance is government funded and falls under the NHS. This is untrue. The Yorkshire Air Ambulance is an independent charity which relies heavily on the generosity of the public & organisations to keep the service active.
Finally, we would like all form groups to hold their own fundraising event during the final half-term. This could be a bake sale, penalty shootout competition, etc.